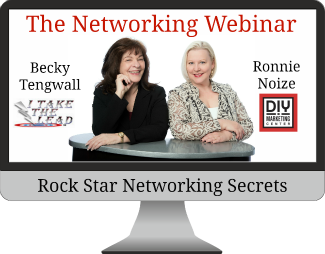 Can networking make you famous? Build your reputation as an awesome expert? Create buzz about how cool you are?
Absolutely...if you know how to network like a rock star, so GET READY for your time in the spotlight, baby!
Here's exactly what you'll learn from networking experts Ronnie Noize and Becky Tengwall:
=> how to stand out like a rock star when you show up at a networking event
=> how to instantly magnetize attention when you introduce yourself
=> how to create a stampede of people eager to talk to you
=> the cool secrets of rock star networking
and more!
This dynamic, fast-paced webinar is packed with tips, tools, and training to put you in the spotlight at networking events, so get ready to rock!
WHAT: The Networking Webinar: Rock Star Networking Secrets
WHEN: Tuesday, April 19, 2016 at 3pm Pacific
WHERE: from the comfort and convenience of your own phone or computer
HOW MUCH: freeeeee! (but registration is required to access live event)
REGISTER: http://www.diymarketingcenter.com/Networking-Webinar
Presented by Veronika Noize, the Marketing Coach, at the DIY Marketing Center inside the Greater Vancouver Chamber of Commerce in downtown Vancouver, Washington. A former musician who toured internationally, Veronika Noize has lived the rock star lifestyle, and is currently a noted expert in the small business marketing community, known for her entertaining speaking style as well as the author of "How to Create a Killer Elevator Speech" as well as "The 30-Minute Networking Secret."