Sunday, September 11 2016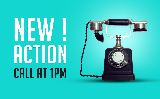 Super support for you with 3 Action Calls on Monday, 2 Mastermind meetings & more this week!
Member Weekly Update
September 12, 2016 · #297
What you're missing at the DIY...
Hey,
Do you have marketing questions that need answering now, like:
- How do I put a social media program in place that brings in prospects without wasting a lot of time and money? [see the 5-Star Social Media Bootcamp]
- How can I turn doing what l love--speaking--into a revenue stream? [see the Smart Speakers Get Paid to Speak workshop]
- What really needs to be in my newsletter? [see the video in the Advanced Strategies section now]
Or do you just want to talk to someone who understands, who supports you and your dreams 100%, and get a little validation for all the hard work you've been doing? Who can answer the questions that are holding you back, and help you get back in action and back on track toward your goals?
You can have that! ALL members (including you) have access to our three weekly Action Calls (see below for details), the two Marketing Coaching calls, the two monthly Mastermind meetings and our cool new high value workshops...
And all you have to do is SHOW UP.
But if you don't show up, you're missing out. [sad face]
I want you to have it all, baby! Let's make it so--don't miss out, start showing up and getting what you want! [happy face]
http://www.diymarketingcenter.com/Join_Now
Warmly,
Ronnie Noize
YOUR Marketing Coach
New! 3 Action Calls starting Monday, Sept. 12 at 8am, 9am & 1pm
All members are now welcome at our THREE weekly Action Calls. Each attending member gets 5 minutes of 1:1 coaching (guaranteed!) plus the audio and video after the call so you have a record of our conversation.
Choose the time that is most convenient for you: 8am, 9am or 1pm (all times Pacific). Registration is necessary (even for Premium members) to get the password for the day. A small fee will apply for Standard and Basic members.
Need more info? See the Action Calls page here: Action Calls
http://www.diymarketingcenter.com/Action_Calls

DIY Events for September 12-16, 2016
http://www.diymarketingcenter.com/Calendar
Action Call-8 [Monday]
iMeet | 8am Pacific | All members (registration required)
Action Call-9 [Monday]
iMeet | 9am Pacific | All members (registration required)
Action Call-1 [Monday]
iMeet | 1pm Pacific | All members (registration required)
DIY Mastermind Meeting [Wednesday]
DIY Vancouver | 9:30am Pacific | All members (registration requested)
DIY Mastermind Meeting [Friday]
Hatch Lab PDX | 9:30am Pacific | All members (registration requested)
Simple New Ideas for Newsletters Seminar [Friday]
Hatch Lab PDX | 12pm Pacific | All members/public (registration required)
see the September calendar
http://www.diymarketingcenter.com/Calendar
DIY Marketing Center · 1101 Broadway Suite 110 · Vancouver WA 98660 · 360-882-1298
Membersite: www.DIYMarketingCenter.com
Facebook group: https://www.facebook.com/groups/diymarketingcenter
Book a coaching session: http://tiny.cc/DIYsessions